inspection services for thermography, available in DMC, are intended to identify the symptoms of equipment faults which manifest as heating, such as by bad contacts and electrical systems examples.
Thermography is generally defined as:
The remote viewing technique that enables the measurement of temperature;
And the thermal imaging of a component, equipment or process,
from the infrared radiation.
This radiation is emitted by objects, forming thermal images that aid in the prevention of defects and interruptions of production processes, allowing a maintenance schedule, minimizing hand labor and resources involved.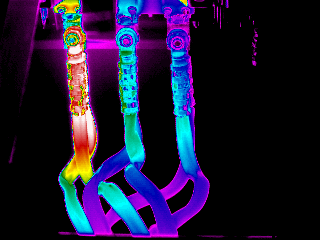 With this technology it is possible to detect at an early stage, Failure processes generated by thermal anomalies in a given component, before it occurs stoppage of equipment, can classify and quantify the measured temperatures.
Fields of application of thermography services:
Electrical Equipment and Systems
The thermographic inspection of electrical systems for identifying problems caused by thermal anomalies due to the relative current / resistance component, usually caused by contact deficiencies.
Dynamic Mechanical Equipment
When used in thermography mechanical equipment allows identification of problems caused by friction between parts due to faulty or inadequate lubrication, Shaft misalignment by heating the couplings
Mechanical Static Equipment
Thermography performed on static equipment basically seeks to identify in areas in regions where there is deficiency in thermal insulation.