The API norm 670 – machine protection systems
The API norm 670
The API norm 670, for machine protection systems do American Petroleum Institute, it is widely recognized in the industry and is actively used by regulators and operators worldwide.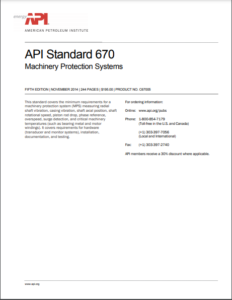 A API norms 670 describes the minimum requirements for a machine protection system (SPM) which measures shaft and housing vibration, axis position, spindle rotation speed, piston rod drop, over-speed, return (surge) and / or critical machine temperatures. To reduce the likelihood of misinterpretation, or API 670 also includes detailed instructions that apply when designing, Apply, test and maintain machine protection systems.
Observation: this article makes reference to the API 670, 52nd edition (November 2014) to highlight and discuss some of the general design specifications described in the section 4 this standard. The bold type is used to refer to the corresponding sections and section numbers (4.x) are added when useful.
An effective strategy for a machine protection system
Whether in power generation, in the activation of process equipment, in the compression or pumping of fluids, failure of critical production assets can have catastrophic results, expensive or just time consuming. In general, the most important considerations are the safety of personnel, the possibility of substantial damage to the machine or loss of production that leads to a financial impact. To help prevent these types of events, a machine protection system must be installed with characteristics and appropriate functions (4.11) in order to protect the machine and the environment around it. The SPM must generate alarms (with levels of alert and danger) in useful time, when unwanted situations occur, so that corrective actions can be taken. In the case of danger alarms (normally related to security), SPMs typically use a relay to trigger a system level control system, such as for example, a turbine control system, in order to automatically initiate a safe stop ("disarm") of the machine.
For a machine protection strategy, be effective, measurements must be accurate and reliable. Consequently, or API 670 lists the requirements for precision (4.5) for different measurement chains, in different temperature ranges, for normal system operation or for testing. A reliability (4.17) of the SPM, as well as system security, protections, autotestes e diagnostics (4.16), are other essential considerations for continuous and uninterrupted operation, required for long periods of time, in industrial applications.
The concept of segregation in API670
Independence and separation of systems, components or parts is an important design concept underlying the entire standard. For example:
A segregation (4.8) requires the SPM to be completely separate from any other systems, like another protection system, control systems or condition monitoring systems (CMS).
Within the SPM, all machine protection loops are normally wired (wireless communication is not allowed here) and the interconnections with other devices in the machine's automatic stop loop, are implemented through system output relays (4.12).
A problem with a measurement chain, input channel or signal processing should not affect any other channel. This applies to system power supplies (4.10), as well as the power supplies of individual sensors. To mitigate these failures, SPMs often use redundant power supplies (11).
You digital communication links (4.13) for systems outside the SPM, as a CMS, must not affect the protective functions of the machines. This also applies to buffered analog outputs ("raw"), even in the event of a short circuit at these outputs.
Similarly, a interchangeability (4.6) implies that it must be possible to physically and electrically replace the components of the SPM in-situ, without leaving the measurement accuracy requirements.
Environmental requirements of API670
Machine protection systems are often deployed in industrial environments or other hostile environments, where they are needed specific system cabinets and environmental requirements (4.9) to comply with different area classifications. These environments can be challenging temperature ranges (4.1), humidity (4.2), shock conditions (4.3) and the need to chemical resistance (4.4). Therefore, measurement chains, usually, need to be built with corrosion resistant materials. Although the wiring must be protected by rigid guards and junction boxes, as described in the wiring and its conduction (4.14), which also helps to minimize the effects of electromagnetic interference (EMI) often found in industrial environments. Examples include the segregation of signal and power wires or the use of shielded cables.
Other electrical issues, What earthing (4.15), can negatively affect electrical signals. The impact of incorrect or missing grounding, varies in noise and interference, to the worst case scenario where electrical leakage through the chassis, causes damage to instrument components or even injury to people.
A API 670 also mentions the project definition and the execution requirements related to the scope of supply and responsibility (4.7) that concern interested parties, from system vendors to proprietors.
Conclusion
An understanding and appreciation of the general requirements of the API standard is important 670, described above, because to API 670 is one of the most widely applied international standards for the protection of machinery.
Para a Meggitt Vibro-Meter, it is essential that the products and instrumentation are fully compatible with API 670. However, everyone involved in the project, selection, installation, operation or documentation of such systems can benefit from this important reference, which is full of collective knowledge and good engineering practices.